So! Here's a few things that you all could do this summer! This will mainly apply to people living in England, but this also works for people on holiday here.
Camping – If this is your thing then I definitely recommend the Shrewsbury Steam Fair, I go almost every year with my family, and the only reason I can't this year is because of my enrolment to college.
If you get the right place to pitch your tent, you're set. They allow campers to stay on the site from Thursday until Tuesday, so we always make the most of the time we can stay, but if camping isn't your thing, on the Saturday and Sunday, you can go onto the field for the day with many different things going on such as a falconry show, a small market, and another field with ploughing horses, tractors and cider testing.
It's a brilliant weekend with many different activities going on, there is definitely something for everyone, and keeps people returning year after year. You might not be able to get a camping space this year, but you can book up a year in advance I think so the best thing to do is to contact them. This weekend always falls on the August Bank Holiday weekend, which this year is the 24th and 25th.
Theme Parks – I can only really recommend theme parks I've been too, so there wont be many here, only two, one is in the Midlands, the other is in Cornwall.
I'll start with Drayton Manor. The park itself is just off the A5 near Tamworth and Burton on Trent. There are a few dates that you either won't be able to book or have to call to book, but the park itself is incredible. Rides include Apocalypse, Shockwave and Stormforce 10. Apocalypse is a standing drop tower with a drop of 48m, I haven't personally been on this ride but it looks awesome, it was also rated
The UK's Scariest Ride by The Gadget Show.
Shockwave is a big, blue, standing rollercoaster, the UK's only stand up rollercoaster. I haven't been on this either but again it looks fab.
Stormforce 10 is the UK's first reverse chute water coaster, which I have experienced. I went on this ride with my mum, my dad, my uncle and his wife at the time and a family friend. We had gone down the first chute and survived, gone down the backwards drop and survived and then the whole thing stopped at the bottom and the entire ride halted, and because our boat was the closest they had to move ours to start the ride again. I turned around while the ride had stopped and noticed that there was a boat on the edge of the backwards drop off, and I suddenly felt awful that the ride had stopped but it was a funny experience for us and I'm sure it was for the people in the other boats. You get extremely wet, so make sure it's the last one you go on, not the first.
There is also another theme park on site called Thomas Land, so there's plenty to do with younger members of the family too! There's a zoo on site too so I advise you spend as much time there as you can. :)
You can check out the website here!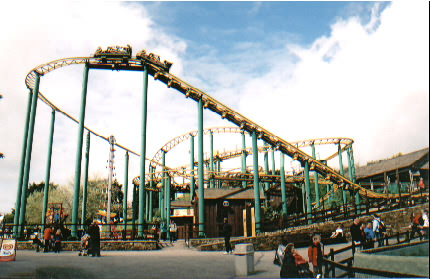 Flambards is a theme park in Helston, Cornwall. There's plenty of child friendly activities and rides, but one that I've experienced personally is The Hornet. Its capable of 42.1 km an hour speeds and has many twists and turns, it's a great ride and comes with a height restriction.
Flambards also has a Victorian village full of accurate representations of Victorian life, including sweet shops and rooms decorated as houses. When I visited, there was a complete section on the World Wars, there were fake air raids and a bombed house that had moving flooring you had to walk over, a full sized air raid shelter in a grass bank and so much more. If you are in Cornwall, you should definitely pay a visit!
You can see their website here!
This is really all I can think of for things to do this summer because half of its gone. Other things could be BBQs, pool parties, holidays or family days out.
I will definitely look into family days out at museums and other things!